Solitaire FRVR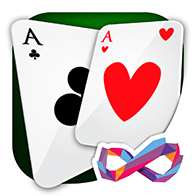 Genre Card Game / Klondike Solitaire / Patience
Play the best free Klondike Solitaire on your Computer, Tablet, Phone, iPad, iPhone, and iPod.
Solitaire FRVR is a true to the original remake of the classical Klondike Solitaire game everyone knows and loves. The game features vibrant graphics, smooth animations, a classical jumping card ending, and works great on any Computer, Tablet or Phone -- well pretty much anywhere.
Solitaire FRVR features
Beautiful vibrant graphics.
High DPI and Retina support.
Unlimited undo of moves.
One click or tab play.
Smooth animations.
Jumping card ending.
Classic Klondike Solitaire rules.
Works great on mobile devices with full iOS, Android and Windows Phone support.
No need to install anything, works without Flash or Java.
Solitaire Draw 3 and draw 1 game modes.
Solitaire Flip 3 and flip 1 game modes.
Solitaire Turn 3 and turn 1 game modes.
Klondike Solitaire is an easy to play patience game where your goal is to sort the cards into four goals, each representing one suit. Read more on Wikipedia.
Please enable JavasScript to play now!
How to play Solitaire FRVR
To help you get started we created the below documents and toturials on how to play Klondike Solitaire.
More information
Always get the greatest new games on frvr.com