How to Play Solitaire | Rules + 7 Tips
In this guide, we will teach you how to play Mahjong. To help make the guide as good as possible, we will be using Solitaire FRVR as the example game.

This is what you will learn:
---
Elements of the Game
A classical game of Klondike Solitaire has four individual card piles as shown below. Notice that these piles might move around depending on screen resolution. However don't be worried the rules are exactly the same.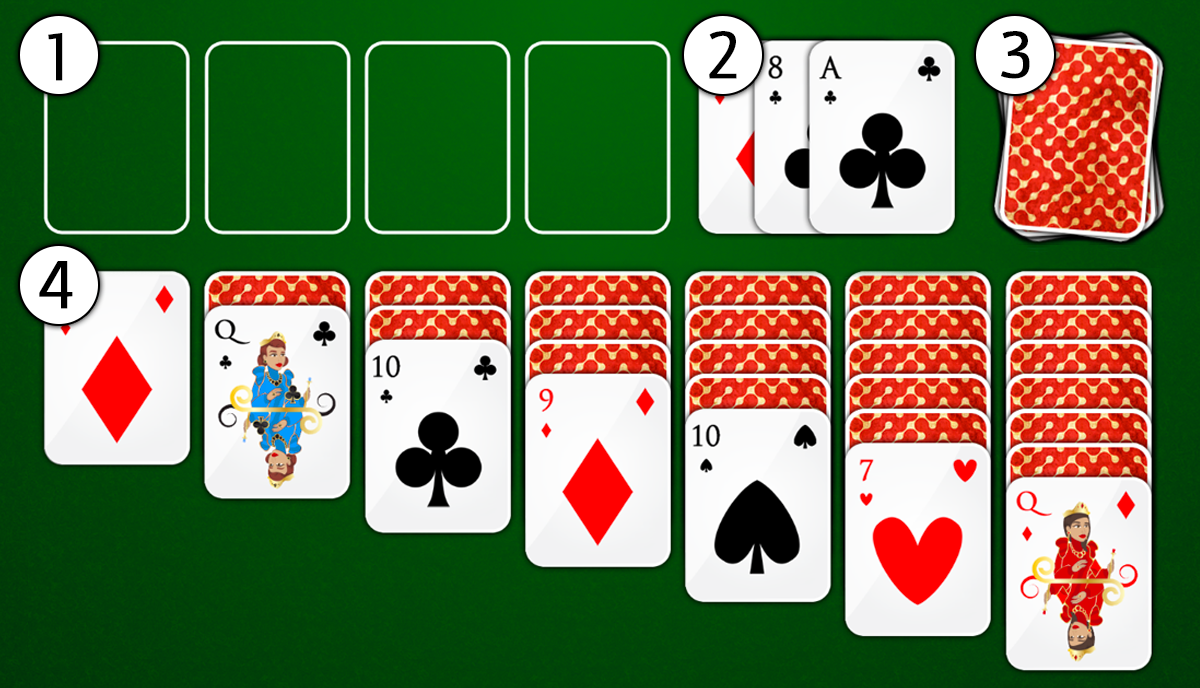 Let's take a look at the individual piles.

Goals. Four goals.
Preview. The preview with face-up cards.
Pile. The pile with face-down cards.
Columns. The seven columns that make up the main table.
Starting a New Game
The columns are numbered from 1 to 7 from left to right. When starting a new game column 1 has one card, column 2 has two cards, column 3 has three cards, and so on. The reminder of the cards are face-down in the pile. Preview and Goals are all empty when a new game is started.
How to Win
To win Klondike Solitaire you must move all the cards to the four goals. Each goal can only hold one suit and you must put the cards in the following order Ace, 2, 3, 4, 5, 6, 7, 8, 9, Jack, Queen and King.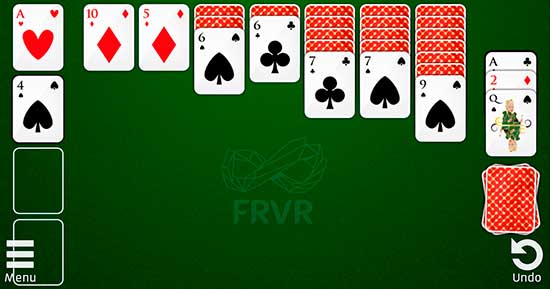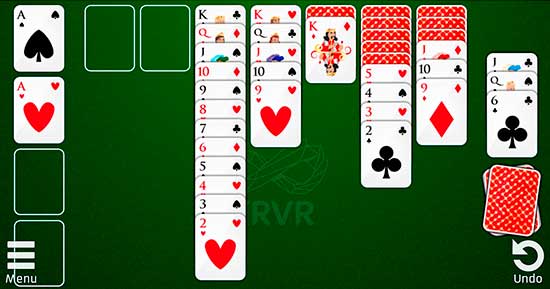 How to Play
To play and win the game, use the below moves to complete the game. Or check our video tutorial right here:


Moving cards: You can move cards by dragging them between the piles. If you simply click a card Solitaire FRVR will try to move the card to the best possible position.
Flip cards from the Pile (3) to the Preview (2). You can flip cards from the pile (3) to the preview (2) by clicking the Pile. You can flip either one card or three card per click depending on if you play draw 1 or draw 3 solitaire. In Solitaire FRVR you change the game mode in the sidebar menu.
Moving cards to a Columns (4) You can move a face-up card to a Column (4) if the Columns (4) top card is one higher in value and a different color. For example you could move a black 4 onto a red 5.
Moving new cards to Columns (4) You can move new face-up cards from both the Preview (2) and the Goals (1) to the Columns (4), however you can only ever move the top-most card from either piles.
Moving cards to empty Columns (4) Only Kings can be moved to an empty Column (4)
Moving cards between Columns (4) You can move both single cards and sets of multiple face-up cards between the Columns (4). Moving a set of multiple face-up cards, work exactly as moving a single card, except you are moving multiple cards at once.
Moving cards to the Goals (1) To start moving cards to the Goals (1) you must first move an Ace to an empty Goal (1). You can move any Ace to any Goal (1). Hereafter you can move cards of the same suit as the Ace to the Goal (1). However you must do so in the following order Ace, 2, 3, 4, 5, 6, 7, 8, 9, Jack, Queen and King. If you click a card that can be moved to a Goal (1) it will automatically be moved there.
Auto completing the game When the Pile (3) and Preview (2) are empty and all Column (4) cards are face-up, Solitaire FRVR will automatically move the renaming cards to the Goals (1) and thereby complete the game.
Undo moves Solitaire FRVR allows you to undo an unlimited amount of times. Simply click the undo button in the bottom right corner.
Ready to play?
Try now Solitaire FRVR and relax after a busy day of work. The best card game for free!
About Klondike Solitaire FRVR
Still missing your old Solitaire games sessions on your desktop computer? FRVR brings you the best card game to play on your free time. Solitaire is a popular and classic single player card game also known as Klondike Solitaire and Patience. This Solitaire game has 1 card and 3 card draw. The cards of this Classic Solitaire are big enough so you can tap them easily. Try now Solitaire FRVR and have endless hours of fun, just like in your PC!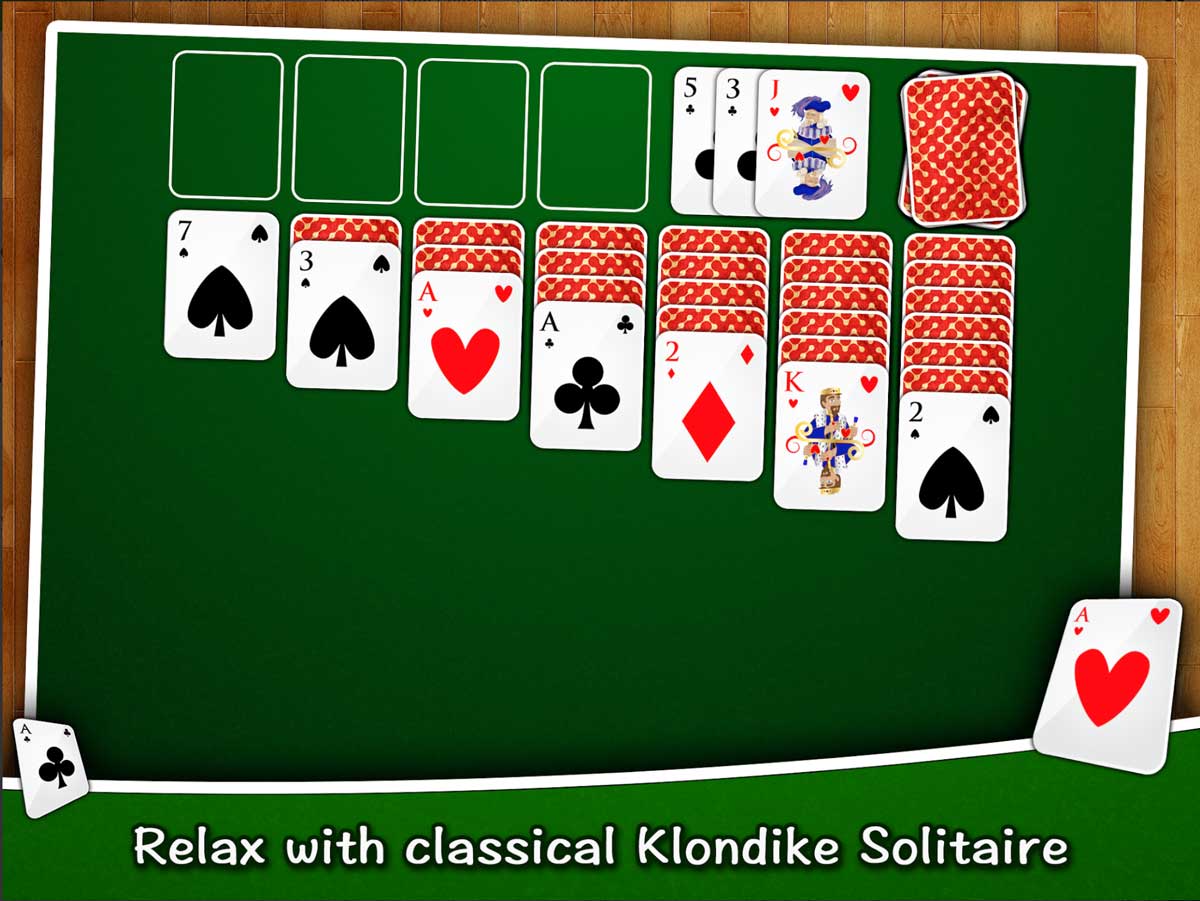 Solitaire is one of the most played and funniest free games for both kids and adults. If you've ever played Klondike, Patience or Solitaire on your personal computer, or any variants like Spider Solitaire, FreeCell Solitaire or TriPeaks Solitaire, you'll enjoy this authentic and original Classic Solitaire game! Great card game to pass the time and relax, and for helping to keep your brain focused. Solitaire FRVR is a true to the remake of the original Klondike Solitaire which everyone knows and loves. If you liked the Solitaire game on Windows, you will love Solitaire FRVR.

You can either play the easy one card draw where most games are winnable, or challenge your mind with the three card draw mode. You can play our other card games very soon, like Solitaire Spider, Solitaire TriPeaks or Solitaire FreeCell. Sync your progress and continue playing your card game across your devices: mobile, tablet, computer, facebook…

Simple and intuitive controls: single tap to move cards to stack or foundation, easily drag a pile into another pile, auto finish when the game is complete… Left-hand and right-hand are supported in this Klondike Solitaire game. Totally created for smart casual fans, casino lovers, and loyal players of solitaire who have the nostalgia of the classic solitaire for desktop.

To win Klondike Solitaire you must move all the cards to the four goals. Each foundation can only hold one suit and you must put the cards sequencing from Ace to King: Ace, 2, 3, 4, 5, 6, 7, 8, 9, Jack, Queen and King. You have to complete all suits to win the game: clubs (♣), diamonds (♦), hearts (♥) and spades (♠).
In this lightweight solitaire game you can use unlimited undo and hints, so don't worry if you get stuck. The daily challenges are a good mental exercise and the decks have big and easy to read cards. There is no score nor time limit, so you only have to enjoy and take a relaxing break. So when someone says, "Hey, where can I find a really good Solitaire Classic?", you can tell them that FRVR has the best and coolest Solitaire Klondike game ever!

It's the perfect time killing game for a short period of refreshing brain training on the bus, in the toilet or in the office. Easy to play retro card game for all ages and all kind of devices.

This Solitaire Klondike-style only focuses on giving you a truly fun experience for free. It's an easy to play Classic Klondike Solitaire with incredibly addictive and simple controls, so both young and adults can have fun. And relax, you can play as much as you want, there's no time limit! It's just you and your brain! Do you like it? We've a lot of free games for you!