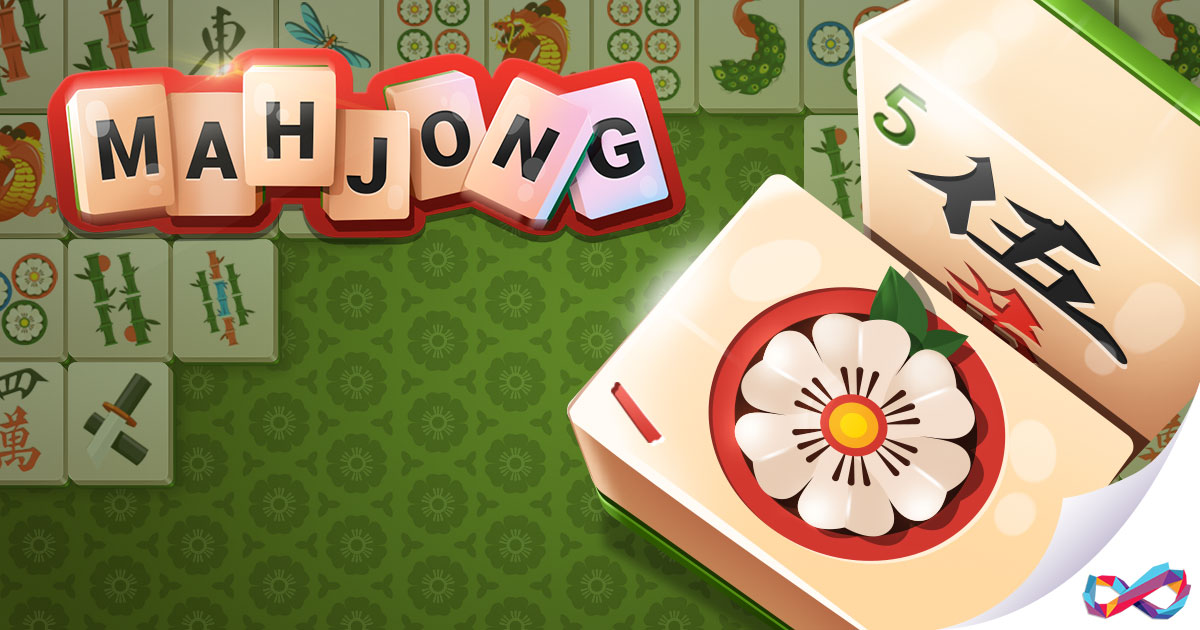 How to Play Mahjong | Rules + 7 Tips
There are several variations and ways to play Mahjong. In this guide, we will teach you how to play Mahjong Solitaire. To help make the guide as good as possible, we will be using Mahjong FRVR as the example game

This is what you will learn:
---
Elements of the Game
Although there are a lot of things that can be used to play Mahjong Solitaire, like lecterns to place the tiles or a bunch of tokens to count the points, the only essential element to play Mahjong are the tiles. A basic Mahjong set consists of 144 tiles based on Chinese characters and symbols, distributed as follows:


9x4 tiles for the Balls suit (also called Circles, Gold, Points, Coins or Plates).
9x4 tiles for the Bamboo suit.
9x4 tiles for the Character suit (also called Numbers or Figures).
4x4 Wind tiles (North, South, East and West).
3x4 Dragon tiles (White Dragon, Green Dragon and Red Dragon).
4 Flowers tiles.
4 Seasons tiles.

The Winds are usually worth the most bonus points when paired individually, but the most bonus points are achieved by matching all of the Seasons followed by all of the Flowers.
Starting a New Game
This variation of Mahjong is a single-player matching, in which the 144 tiles are arranged in a special four-layer pattern with their faces upwards. There are many possible distribution, some more difficult to resolve than others. Tiles that are below other tiles cannot be seen. But by repeated undos and/or restarts which some programs offer, one gradually gets more and more information. Sometimes, tiles are only partially covered by other tiles, and the extent to which such tiles can be distinguished depends on the actual tile set.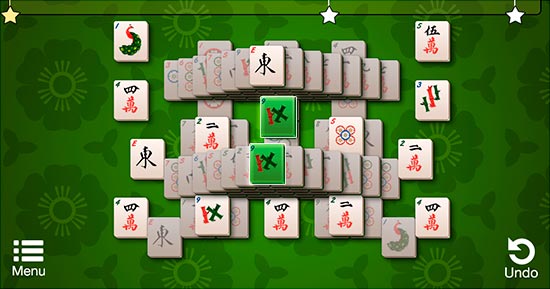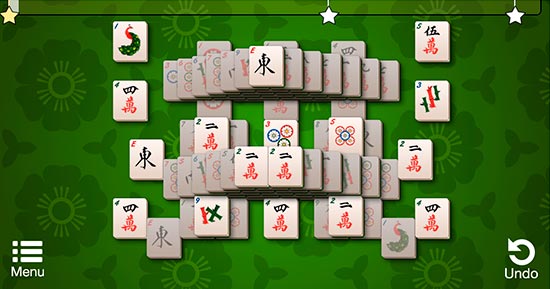 Mahjong Solitaire can be played either solo or with a partner, in which case the aim is to accumulate the most pairs, to be the last one to match a pair, or to score the most points. Points are gained for each pair removed, with bonus points for removing matched pairs in sequence or removing pairs in sequence that are parts of sets.
How to Play
The main goal in Mahjong Solitaire is to match open pairs of identical tiles and remove them from the board, exposing the tiles under them for play. A tile is said to be open or exposed if it can be moved either left or right without disturbing other tiles. The game is finished when all pairs of tiles have been removed from the board or when there are no exposed pairs remaining.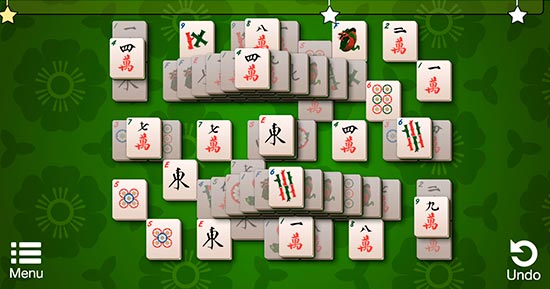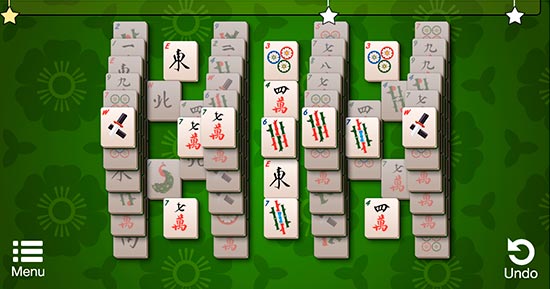 How to Win + 7 tips
Try to match the pair that will unblock the most tiles.
Use the "undo" button as many times as you need. It's free!
Try to eliminate tall stacks first.
Concentrate on matching tiles on horizontal lines, as these are usually more difficult to remove.
Wait for the automatic hints if you are blocked, but be careful, they are not always the best move!
There are 4 tiles of the same type. If all of them are free, just remove them.
If you are stuck in a board, just return to the calendar and try another one. Sometimes it's just a matter of refreshing your mind!
Ready to play?
Now that you know everything you need to know, try our classic Mahjong FRVR and have hours of fun!
About Mahjong
Relax, take a look at the board and try to match some tiles, It's time to play Mahjong Solitaire! Solve unlimited boards and exercise your brain with a DAILY NEW LEVEL for free! Find your zen in this classic shanghai solitaire game designed with BIG original chinese TILES, simple controls and a relaxing asian music. No time limits, no moves limits… It's just you and the mahjong blocks!

️🀄️ Play Mahjong FRVR - Classic Shanghai for free & find your Zen while matching tiles!️ ️🀄️

Worried about running OUT OF LEVELS? Relax, your mahjong adventure has just started! This shanghai solitaire has UNLIMITED BOARDS to be solved! Enter this timeless classic game and find a new challenge every day full of tiles waiting to be matched!

Playing Mahjong FRVR it's truly a pleasure for your eyes and an extremely fun experience for your brain. The gameplay is simple yet addictive: you just have to match identical chinese tiles (flowers, dots, bamboos, dragons, winds or characters) and remove them from the board, exposing the tiles under them for play. The game is finished when all pairs of mahjong blocks have been removed from the table, or when there are no exposed pairs remaining. Seems easy but, be careful and choose all pairs wisely, or you can run out of options! Even the mahjong masters find a challenge here!

Remember the CLASSIC MAHJONG free PC version that you used to play for hours? The game that has so many names: Taipei solitaire Mahjong, Mahjongg solitaire, Mah jong, Majong, or even the "chinese tile matching game". The classic board game is back! Mahjong FRVR is the perfect remake of the epic chinese board game. Designed with BIG 3D TILES and an original relaxing asian music. All colors and graphics give you a deluxe top mahjong experience. It's the perfect time killing game for a short period of refreshing brain training on the bus, in the toilet or in the office. An easy to play retro board game for all ages and all kind of devices.

Mahjong FRVR is relaxing casual game and there are INFINITE UNDOS during the game! Just find your strategy and try to solve this chinese puzzle the way you want. Match some pairs of tiles, explore the rest of the blocks and then undo your movements and start all over again. Be smart and change that pair of flowers for two bamboo tiles and continue solving the mahjong board!

Discover the Calendar Mode and find a new challenge every day! Choose between facing the daily classic shanghai level or giving a try to all previous puzzle boards. Then, choose among various difficulties: start from Casual mode and relax yourself with an easy matching gameplay and then try the challenging mode, a perfect brain training for mahjong experts!

It's an easy to play Shanghai Mahjong with incredibly addictive and simple controls, so both young and adults can have fun. Play online or offline, since you don't need an internet connection to start matching pairs of chinese blocks. And relax, you can play as much as you want, there's no time limit! It's just you and your brain!

️️🀄️ Download the best classic Mahjong Solitaire game for free!️ 🀄️ Android and iOS